YOUR MOUNTAIN OF CLINICAL DATA IS GROWING.
NOW, PUT IT TO WORK FOR YOUR PATIENTS.
By now, we've all heard about the benefits and pitfalls of big data—in other peoples data systems. But now, it's your job to make big data work in yours. That means getting practical, learning specific ways to deliver relevant clinical data to patients and caregivers with practically no effort or delay.
Netspective™ Contexxio® is our new medical application plug-in to help you make faster, more informed decisions at the point of care. We built it to help personalize any type of clinical content based on the specific data from the patient being viewed, and displaying it in context within any EHR or digital health application.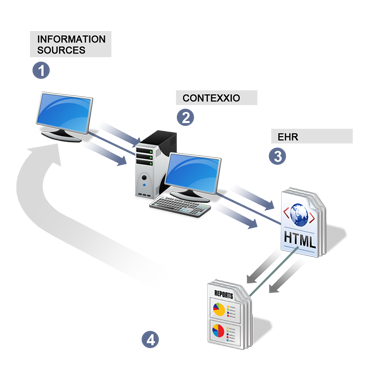 Without context, healthcare data will never work for you.
There's more medical data than ever, but it's getting harder to make it useful. Often, that's because electronic records information can't be easily linked to information that's relevant to specific patients, healthcare providers, medical conditions or types of treatment.
Contexxio provides effective EHR-based solutions, which overcome these and other information delivery problems. Use Contexxio to provide healthcare professionals and patients with:
Highly relevant medical information targeted at specific patients or healthcare providers.
Clinical content that can be integrated easily into patient EHR systems.
Patient-specific medical advice and healthcare plans, which patients will engage and comply with.
Data utilization analytics, which enable healthcare organizations to monetize clinical content.
The Contexxio design and operation emphasizes ease of use and lots of choice.
A focus on easy use. Contexxio design focuses on easy installation, use and training instead of bells-and-whistle features.

Support for one physician or hundreds. We have built Contexxio with modern, open-source web technologies that are scalable and robust. So, no matter how many healthcare providers work in your system, Contexxio operates across healthcare systems and geographic boundaries.
No More Generic Patient Education Content
Generic healthcare information no longer makes the grade. Instead, patient education content must be selected to address each patient's concerns and support ongoing care. Contexxio patient education materials include:
Detailed, up-to-date medication information
Healthcare plan information and healthcare tips, including exercise
New research information that applies to ongoing patient care
Transforming Data into Comprehensive Care
The Contexxio plug-in functions as a clinical content delivery and patient education platform. Healthcare providers and organizations can use Contexxio to retrieve context sensitive information related to patients' diagnoses, procedures, medical conditions and health plans. Contexxio uses the information collected from information providers like WebMD, PDR, CME etc to deliver relevant content to EHRs and other digital healthcare systems in real time.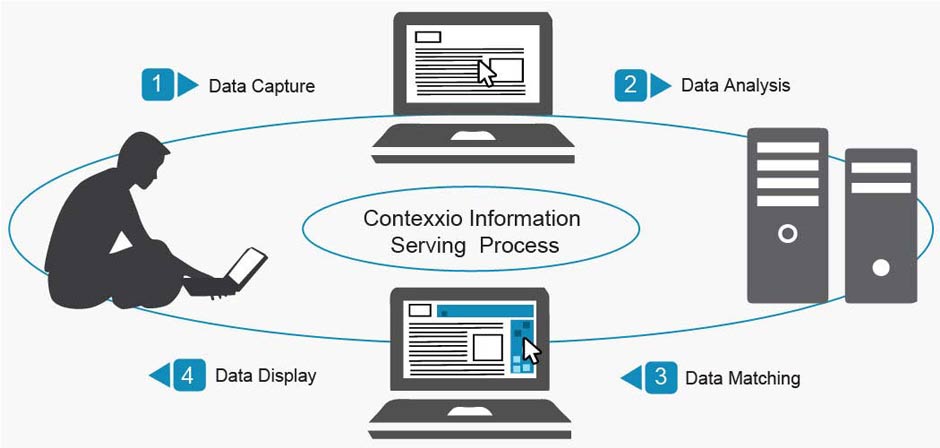 Delivering Vital Medical Data in Real Time
You can install Contexxio as a plug-in to EHR, PHR or any healthcare application. Content is delivered:
Directly to physicians at the point of care.
Directly to patients through their physician-managed PHR.
Here's how Contexxio serves up relevant content for healthcare providers or patients:
Data capture. When a patient or healthcare provider is viewing a patient record in an EHR or any other healthcare app, Contexxio agents installed in the EHR or healthcare app, capture disease- or condition-specific data in the patient's record—in real time.

Data analysis. This data is passed to the Contexxio server. The server uses rule engines, machine learning, natural language processing and data analytics to process the data.

Data Matching. Contexxio collects and stores information related to specific diseases, illnesses and medical conditions. This includes relevant information on medicines, research results, current treatment trends and other data from the PDR, WebMD, CME (continuing medical education) and many other sources. The Contexxio Server matches the context sensitive data collected from the EHRs with the data it has from various information providers.

Data display. The processed and aggregated information appears in the widgets that viewers see on the EHR pages.
Platform

Data Analysis
Rule Engines
Process Management
Natural Language Processing and Machine Learning
Big Data infrastructure
Application Plug-in

EMR/EHR/PHR
Wellness Apps
Fitness Apps
Other healthcare apps
Browser Extensions

IE/Edge
Firefox
Chrome
Safari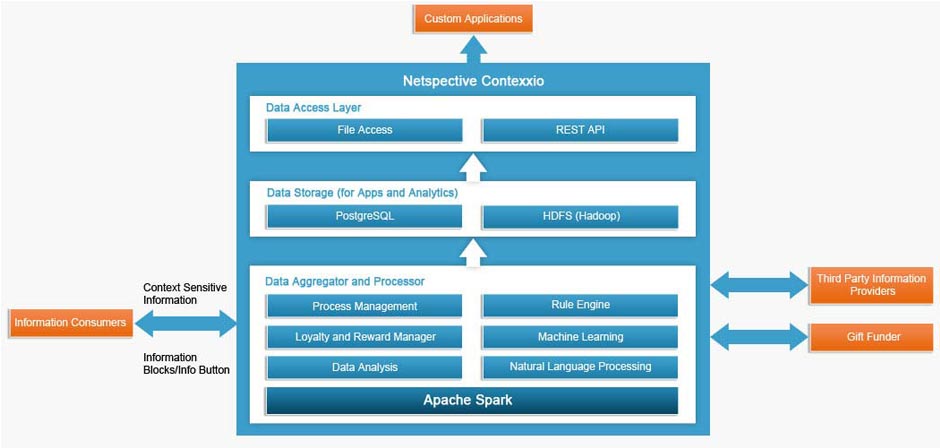 Contexxio Data Aggregator and Processor module:
This component analyzes context sensitive data from various information consumers like EHR, PHR, other healthcare applications and data captured from apps running within browsers. Using the information provided by the information providers like WebMD, PDR, CME and others, this module then applies rules to generate information (back to the information consumers) relevant to the captured data.
Data Storage module:
This component is responsible for storing the data coming in from the various information consumers. Contexxio uses the Lambda Architecture concept. Lambda Architecture is used to handle massive quantities of data in batch processing mode and real-time streams for urgent review. Contexxio also supports multiple types of data storage models (such as relational data, column stores, and Hadoop like storage).
Contexxio applications:
The custom applications can use the incoming data for predictive analysis, disease and population profiling, data auditing etc.
Types of Context Sensitive Information
Contexxio handles these types of information:
Patient demographics
Evidence and assessment clues.
Signs and symptoms of medical conditions taken from detailed patient histories.
Nursing procedures
Results of lab tests and imaging procedures
Discharge details
Healthcare staff members (physicians, pharmacists, dieticians, physical therapists, etc.)
Diagnosed diseases and medical conditions and their ICD codes
Detailed medication information
Nursing considerations
Healthcare plans
Follow-up care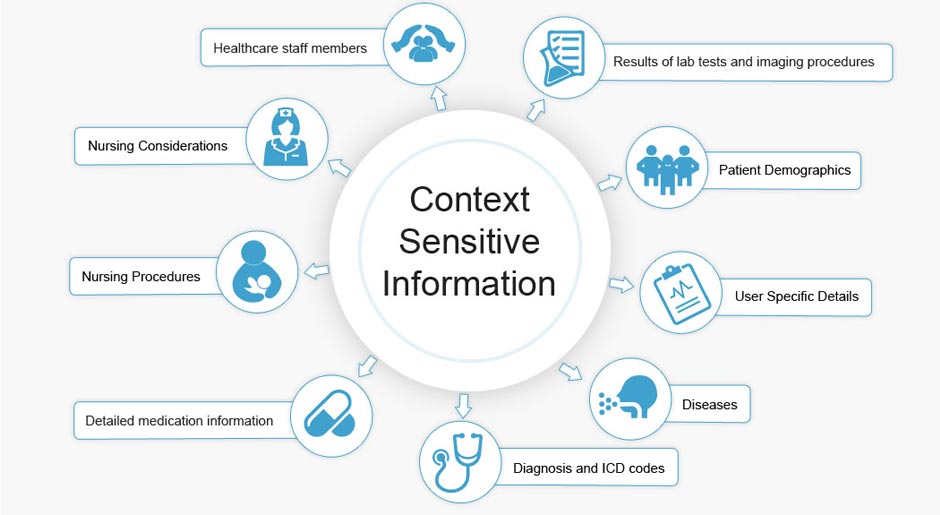 Contexxio Information Blocks
Find and Display Highly Relevant Content
Contexxio information blocks are widgets displayed prominently on pages of EHR, PHR and other healthcare applications. They consist of context-specific content provided by third-party applications.
Information blocks give healthcare providers immediate access to authoritative content. Quick access to highly relevant support information enables physicians, nurses, dieticians and others to make real-time healthcare decisions and reduce the time needed to provide care.
Contexxio provides information blocks for different categories of users: patients, doctors, nurses, dieticians and other caregivers.
The Contexxio application plug-in analyzes EHR records to help find and display content topics that are most relevant to specific patients, healthcare providers and medical conditions.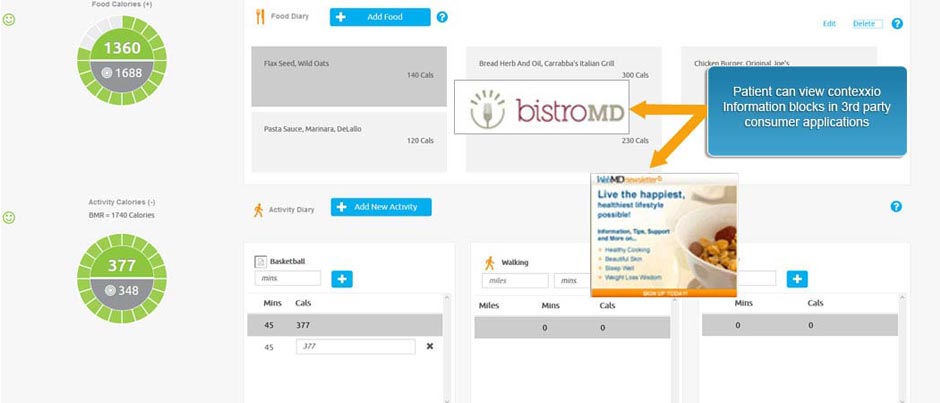 Use Contexxio information blocks to display these types of patient-specific content:
Relevant articles from WebMD or other Internet sources.
Detailed drug information to front desk staff (a different presentation than what physicians see).
CME courses based on the types of patients physicians see each week.
PDR references based on recent EHR data entries.
The latest medical research information relevant to physicians' interests and patients' conditions.
Information that helps healthcare providers make prescription decisions in real time.
Newsletter subscriptions for nurses or other clinicians.
Other information sites that provide clinical data relevant to patient care.
Hard-to-get content resources that motivate patients to take active roles in their healthcare.
Get Immediate Access to Context-Specific Content
The Contexxio medical content plug-in provides immediate access to a wide variety of content that helps to improve healthcare. You can install Contexxio in EMR, EHR and PHR systems, and in wellness, fitness and other healthcare-related applications.

Overcome Obstacles to Easy Data Access
Although it's common to add Contexxio to an EMR, EHR or PHR system, some healthcare facilities don't permit this. You can avoid this obstacle by using the Contexxio browser extension.
Healthcare providers can add the extension to their browser and enjoy the same functionality that they would get by using the Contexxio plug-in. The extension automatically identifies the healthcare application running on the browser, captures the information and links it to relevant resources or information.
Because caregivers use, different browsers, Contexxio extensions are available for: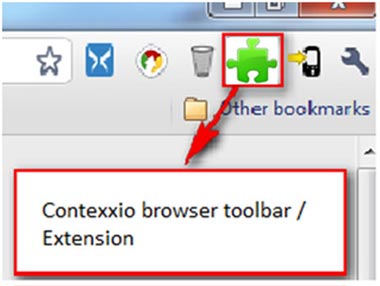 Microsoft® Internet Explorer®
Microsoft Edge®
Mozilla® Firefox®
Google Chrome™
Apple Safari®
Loyalty and Rewards Engine
The Contexxio Rewards Program: Making Compliance Pay
To improve patient activation, Contexxio includes a patient compliance program based on its loyalty and rewards engine. Patients are encouraged to engage fully in their healthcare plan by receiving loyalty points for each program activity they perform and record in their healthcare plan page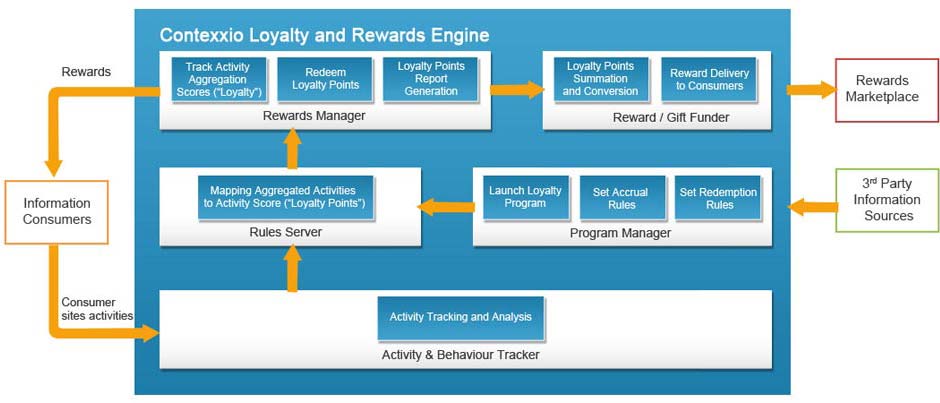 The loyalty and rewards engine:
Tracks patient activity and behavior within a PHR or other healthcare application.
Awards loyalty points based on patient activity in the system.
Defines program rules about winning and using reward points.
Stores reward points and maintains total points earned.
Notifies patients when they can redeem points for rewards. Patients can choose gifts from the Rewards Marketplace.
Patients: Get Up, Get Real, Get Activated.
Healthcare costs are rising. It's essential that patients make the most of each healthcare dollar they spend. That means understanding and following their healthcare plan. Patient activation programs encourage and support patients in their ongoing care. It keeps them better informed about their condition and helps them play an active role in their healthcare.
Activated patients are engaged. They are better able to communicate with their caregivers, experience fewer medical errors, receive better care and are generally better satisfied with their healthcare system.
Education and better support from caregivers go a long way in increasing patient activation. Getting patients activated means:
Making them aware of their health problems.
Explaining how their daily lives are affected by their current condition.
Describing their treatment options.
Getting them to take a more active role in improving their health.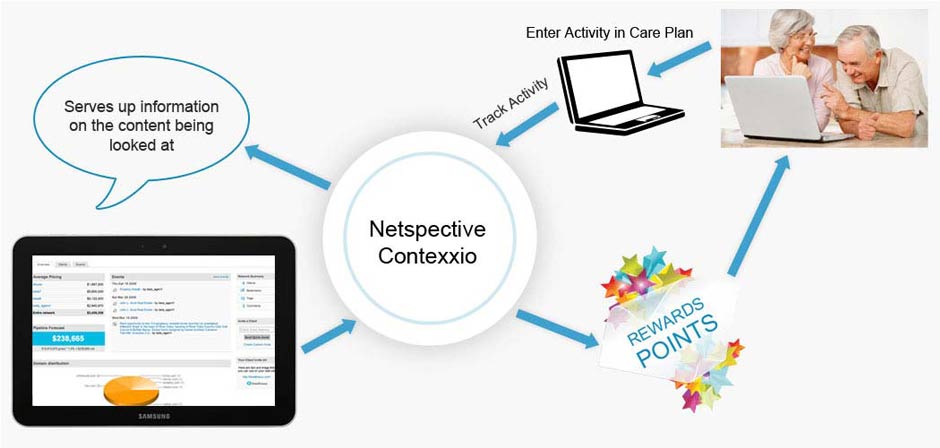 Use Contexxio to:
Provide patients with relevant medical information. There's no need for patients to scour the web and do their own research. Contexxio provides them with authoritative support information.

Encourage patients to engage in healthful activities that are part of their healthcare plan. Contexxio includes a rewards program based on principles of retail loyalty plans. In it, patients can accumulate reward points and later redeem them for gifts.
Patient-generated health data contributes more and more to high-quality healthcare. This is due to the fact that patient data is collected by patients continuously and not by clinicians just during hospital visits. This offers an opportunity to provide information needed during care, with potential cost savings and improvements in quality, care coordination, and patient safety.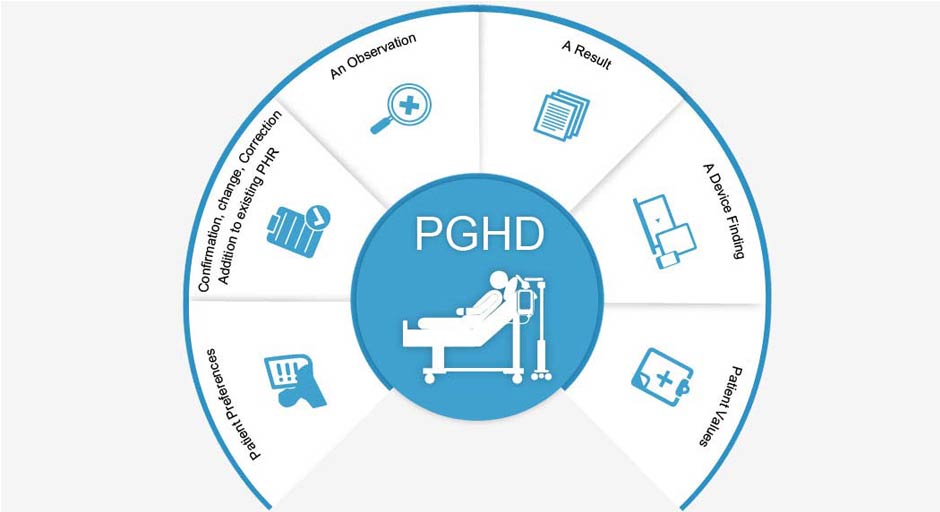 Use Contexxio PGHD capabilities to:
Improve wellness and preventive care. Data can be captured for all patients whether they are well or at risk or have some chronic condition. This allows Contexxio to provide relevant information for all categories of people by delivering personalized treatment options, risk assessments and other preventive care information irrespective of the condition of their health. For example, well patients can be provided information on health promotions, healthy lifestyle choices and similar educational content. Patients who are at risk can be provided information on weight management, dietary suggestions etc.

Provide ongoing patient education. Contexxio can educate patients on their lifestyles, healthy habits, diet and exercise needs. When patients capture health data from self-monitoring and other wearable devices, Contexxio can provide them with information related to their situation.

Motivate patients to take charge of their health care. Providing personalized health information to patients can go a long way to make them more responsible for their own health care. Given PGHD, Contexxio also provides practical information about what patients can do to improve their condition.
Netspective is a leader in Technology and Consulting services in regulated markets - Healthcare, Government and Medical Technology.
Technology, consulting, and solutions focused on firms impacted by FDA, ONC, NIST or other safety, privacy, and security regulations.